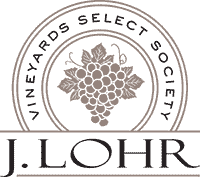 The Vineyards Select Society is our most exclusive membership offering. Loyal members and collectors, have the opportunity to enjoy Library Wines, the J. Lohr Cuvée Series and the coveted J. Lohr Signature Cabernet Sauvignon among their curated club releases, and are invited to private events featuring winemakers and Lohr family members.
"Our Vineyards Select Society is more than just a wine club—it is a small, passionate community of wine lovers for those seeking the ultimate J. Lohr experience. Members are assured access to rare library wines and our most highly prized Cuvée Series and Signature bottlings. They also enjoy private events with our winemakers and the Lohr family, where they have the opportunity to discover who we are, and what makes our story, and our wines, so unique and extraordinary."
- Jeff Meier, President and COO
No fee to join; one-year minimum membership commitment.
Optimal club release period three times annually in Winter (February), Spring (May), and Fall (October)
Your preferred commitment of 24 bottles annually
Member access to J. Lohr Gesture, J. Lohr Vineyard Series, J. Lohr Cuvée Series, J. Lohr Library Wines and J. Lohr Signature Cabernet Sauvignon
20% member savings on wine and merchandise purchases
25% member savings on mix-and-match case purchases any time
Access to Library Selections, J. Lohr Cuvée Series and J. Lohr Signature Cabernet Sauvignon
J. Lohr Gesture and J. Lohr Vineyard Series wines in each release
Invitations to J. Lohr Wine Club appreciation parties and club-exclusive gatherings featuring winemakers and Lohr family members
Flat rate shipping rates on all wine club orders, every time
Complimentary tastings at the J. Lohr Paso Robles and San Jose Wine Centers
Priority access to elevated, appointment-only tasting experiences to be launched in the summer of 2020
J. Lohr Wine Clubs release policy: Pick-up members will have 30 days after the club release date to pick up their orders. As we cannot hold sold wine inventory for longer than one month, please pick up your wine, or we'll ship your order to you. We will give you a courtesy call if your wine is not picked up within 30 days. If we don't hear back from you within five days of our call attempt, your order will be sent to your shipping address on file at the flat-rate club shipping fee. We will do our best to reach you prior to shipping and appreciate your assistance.